Crafting a financial plan
with you in mind
You deserve to get more out of life, and that starts with sound financial planning. Our aim is to provide you with confidence in your financial plan to give you more time to focus on what you enjoy doing.
At the center of our process is a focus on making financial planning informative and engaging for you. Using a suite of leading-edge and collaborative planning tools, we can help shape a realistic plan that enables you to confidently pursue the goals that matter to you most.
Once we've developed your plan, we'll conduct a stress test to gauge the probability of a successful outcome while looking to identify any tradeoffs that can be made to attempt to improve the odds. We use a tried-and-tested process to craft your plan that includes the following steps: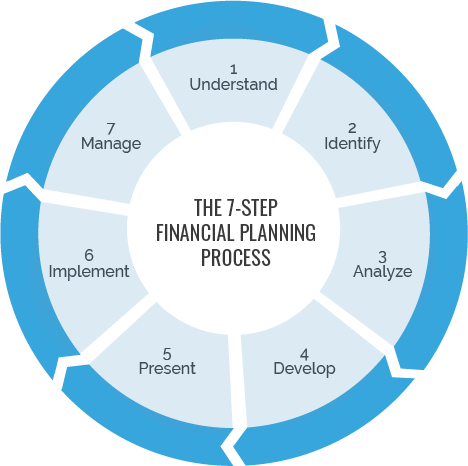 Understanding your personal and financial circumstances

To begin identifying your specific needs, wants, goals and ambitions, the first step involves gathering qualitative information, such as your health status, life expectancy and family circumstances.

Identifying and setting goals

The second step involves looking at the quantitative information, including your income and expenses. Combining the information gathered, your values and your attitudes towards planning, we help you select and prioritize goals that align with your current financial information.

Analyzing your current course of action

Our analysis gauges where you stand in terms of investments, insurance coverage, risk management, employee benefits, retirement planning and estate planning. This phase of the process helps determine if you're on track to reach your goals and, if not, to consider alternative courses of action.

Developing financial planning recommendations

This stage is where we develop a financial plan that's tailored to you and your situation. Your plan will include timing and priority of our recommendations.

Presenting financial planning recommendations

Here, we sit down with you and discuss how we arrived at our recommendations. We address any questions and comments you may have, and consider any changes based on your feedback.

Implementing financial planning recommendations

We provide a transparent outline of the financial products and services that will be used to fulfill your financial plan. Alongside a clear timeline, our process involves outlining the selection of specific account types, investment products and optional services – and handling all of the paperwork for you.

Managing progress and updating

After establishing your plan, we will review its progress toward your objectives and suggest any changes where needed. We stay up to date with what's ahead, helping you remain equipped for the challenges and market conditions of tomorrow.